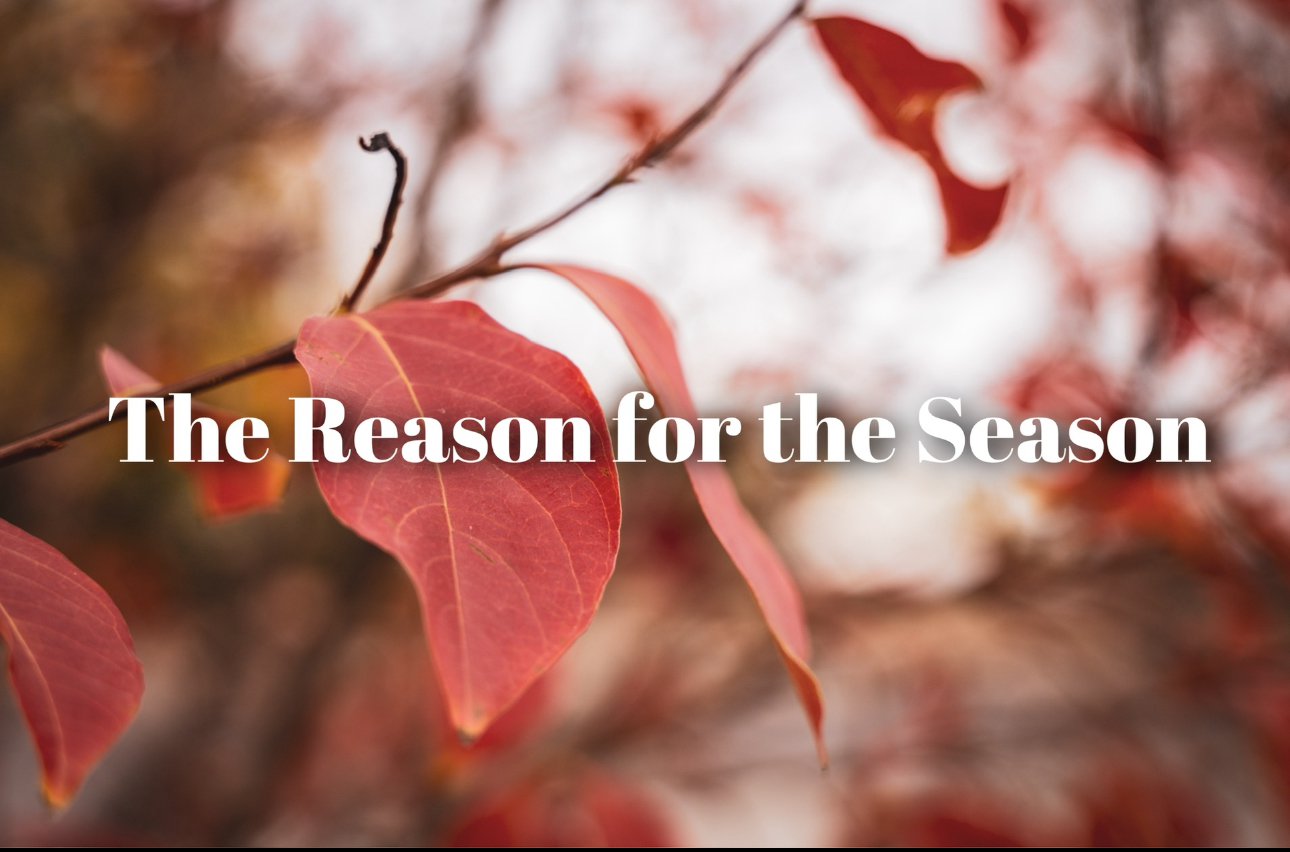 Reason for the season
Reason for the Season
John 3:16; Luke 2:1-5; Micah 5:2; Galatians 6:7; 2 Corinthians 9:6-11;
1 Corinthians 16:1-2
Treasure
CIT: Joseph and Mary go to Bethlehem
CIS: What gets measured get managed
SO: The hearer will create margin so they can give generously
Follow along at d1.church/notes
Intro: Generous God Series.
For God so loved the world that he GAVE his one and only Son, that whoever believes in him shall not perish but have eternal life.
"Our God is a generous God and he made us to be a generous people"
Over the next few weeks we will be talking about what it means to be generous and how we use our Time, Talent, and Treasure to Glorify God in our lives
Generosity Opportunities:
Dec 10: Undie Sundie
Dec 17: Live Nativity
Dec 17: Big Give - Media, Kids Security, Rocks
Dec 24: Christmas Services — Bring a friend 10:30 and 5 pm
Today we are going to talk about our Treasure portion. I want first to be very clear. The church does not need your money. God does not need your money. I do not desire that anyone give by obligation, but give willingly with a clear heart as the scripture says.
We are not hurting for money, All of our bills are paid. We can move forward with all ministries and community efforts in the upcoming year and beyond.
We will talk about giving generously always because God has been generous to us. In Acts 17:24-25 Paul explains it to non-believers this way "The God who made the world and everything in it is the Lord of heaven and earth and does not live in temples built by human hands. 25 And he is not served by human hands, as if he needed anything. Rather, he himself gives everyone life and breath and everything else.
As we continue the story leading to Jesus birth we find Mary and Joseph on a trip to Bethlehem
1.Advent (Luke 2:1-5)
In those days Caesar Augustus issued a decree that a census should be taken of the entire Roman world. 2 (This was the first census that took place while Quirinius was governor of Syria.) 3 And everyone went to their own town to register. 4 So Joseph also went up from the town of Nazareth in Galilee to Judea, to Bethlehem the town of David, because he belonged to the house and line of David. 5 He went there to register with Mary, who was pledged to be married to him and was expecting a child.
EXP: This was required by the government at the time and was necessary for God to fulfill promises made 700 years earlier. Micah 5:2 "But you, Bethlehem Ephrathah, though you are small among the clans of Judah, out of you will come for me one who will be ruler over Israel, whose origins are from of old,from ancient times."
ILL: We learn a few things from this scripture from Luke. Joseph is a descendant of the tribe of Judah and specifically King David himself. Now this seems like fact gathering to us, but when read by a Jewish descendant who understands scripture this is leading up to a climactic point. "If she gives birth right now, this could be the Messiah"
EXP: The Roman empire used Census' the same way we do as a country here in the USA. We send people out to count the people living in an area to determine how best to allot the money taken in from taxes. By knowing how many people are in the city of Deming, then local, State and Federal governments can allocate needed funds for projects such as Assistance programs, Health care, and Infrastructure. Basically there is a per person dollar amount that can be spent and the goal is to be fair. Both the Roman government and the USA are too big to know everything and things change so we do it every 4 years. As practical as that sounds...I believe God orchestrated this particular census to fulfill his word. Joseph goes to be counted because it is important for his people, the people of Judah. Jospeh isn't doing this for himself. But his is a member of a tribe, who needs support.
ILL: There is a quote or various quotes that say something similar to this. "What gets measured gets managed"-Peter Drucker What this means in business is that if you want to improve a metric of your business. Create a reporting process for it. If someone has to report on it daily and know where they rank among their peers then suddenly you will see improvement in that area. Simply by knowing where you stand and that it is important, Maybe even monetized by a contest or bonus. You will concentrate your efforts and improve quickly. The Census serves this purpose for Judah and even Joseph knows it is important. Because Joseph is making sure that his family is counted, the People of Judah are blessed more
The best way for Restaurants to get servers in restaurants to charge for drinks is to track water counts. You see the system required you to enter a beverage per person. So if you didn't want to charge people for cokes or tea, you would hit water but give them the drink. So we ran water count contests. This allowed us to not just track who is giving away beverages but capture every dollar for drinks. The lowest water count would get a prize monthly. This is how this works.
APP:We have anticipation of promises fulfilled. This covers 2 of the Advent weeks for us. Hope was given and God loves us so much to design a plan that is perfect
T.S.: Joseph and Mary give of themselves first. To their tribe and to the people of Israel and ultimately the world.
2.Leading with Generosity (Luke 2:4)
4 So Joseph also went up from the town of Nazareth in Galilee to Judea, to Bethlehem the town of David, because he belonged to the house and line of David.
EXP: Joseph and Mary take their time, talent and treasure and invest in going to Jerusalem, to be counted among their people. So that they will be entitled in the end to what the Government or their Tribe of Israel is supposed to receive.
ILL: When Stephanie's aunt passed away a couple of months ago. We flew to Indiana in a couple of days. We had some miles and other things, but it still cost us to go.
ILL: Joseph and Mary felt the trip. They knew the result for their community was worth the expense. The more Generous you are, the more generous God will be with you. The greater investment you make in the Kingdom, the more you can expect out of the Kingdom. Paul speaks about the principle of Sowing and reaping.
Galatians 6:7 Be not deceived; God is not mocked: for whatsoever a man soweth, that shall he also reap.
2 Corinthians 9:6-11 Remember this: Whoever sows sparingly will also reap sparingly, and whoever sows generously will also reap generously. 7 Each of you should give what you have decided in your heart to give, not reluctantly or under compulsion, for God loves a cheerful giver. 8 And God is able to bless you abundantly, so that in all things at all times, having all that you need, you will abound in every good work. 9 As it is written:"They have freely scattered their gifts to the poor; their righteousness endures forever." 10 Now he who supplies seed to the sower and bread for food will also supply and increase your store of seed and will enlarge the harvest of your righteousness. 11 You will be enriched in every way so that you can be generous on every occasion, and through us your generosity will result in thanksgiving to God.
ILL: I had a meeting with a person once and he was telling me how the blessings of God could not be trusted in his life. In fact it was a real sticking point about why he did not go deeper in God. As he explained to me the times when success seemed like it eluded him. He expressed that maybe God was driving the route of his success or even blocking it. I quickly understood and eventually asked about his giving record. I do not do this as a Pastor, but as a person who cared for him. You see I learned in my life that before I began giving regularly and more to God's causes, I wasn't keeping his agenda first. I was concerned about my own agenda. God already has given us more than we deserve, but If we want to maximize it we need to sow so that we can reap.
ILL: There are a few levels of giving to talk about today. You can find yourself wherever you are. This is not for me or for the Church. This is for you.
1. Givers
2. Tithes
3. Offerings
4. Authentic Generosity
APP: To sow properly requires planning
RELEASE People to be baptized
3.Treasure (1 Corinthians 16:1-2)
Now about the collection for the Lord's people: Do what I told the Galatian churches to do. 2 On the first day of every week, each one of you should set aside a sum of money in keeping with your income, saving it up, so that when I come no collections will have to be made.
EXP: The apostle Paul again tells us how church people should think about their finances. He said we should prepare to be generous. Not as an afterthought but before the need arises we should make provisions for the need.
ILL:As Children of God we should make a Census part of how we live. We should count everything and live in a way that create a margin between our income and our expenses weekly-Paul says. Not in a way that makes us become rich so much but that creates a way for us to give when the need arises.
ILL:In our house we call this a Budget. We have done a budget every month for over 8 years. Over the time God has shown us how to live and give in the proper order. The first line on our budget expenses is giving to the church. In this way we put God first in every aspect of our money. Income is used for 1. Paying- Rabbi Daniel Lapin says people provide a quality service and the reward for that is that others are willing to pay for it. 2. Saving- the future is not hidden from us. God wants us to be prepared for upcoming opportunities. 3. Entertaining - When God visited Moses at the tree of memre. He immediately called for the good calf to be slaughtered. 4. Giving -By being generous God teaches us how he is. Before the need arose we were ready to bless people.
***Call Musicians
APP: In the time when Christ came to the world. Our Generous God took a census of the world and determined it needed a savior. He sent Jesus at the right time in History and his is still available today. God is taking inventory of what you need and He will supply it.
TS: I want to be very clear again, I am not asking you to give because the church has a need. I am asking you to give because you get to be a part of what God is doing. There is no greater joy than meeting the need of another. God knows that too.